You are here:  

Sera Je Food Fund Project
Details

Category: Prayer & Ritual Ceremonies
Hits: 112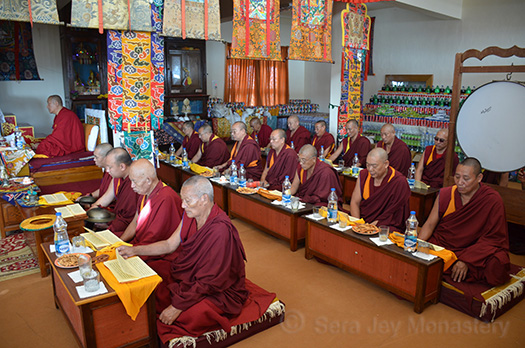 The annual Yangdrub Ceremony, an offering ritual ceremony for invoking prosperity - health, life, wealth and success, is scheduled from 2nd to 4th of November 2017. The ceremony is being presided by the monastery's abbot and attended by lamas and senior monks. It forms one of the annual ritual ceremonies and is conducted with reverence in traditional monastic practice.
Details

Category: Prayer & Ritual Ceremonies
Hits: 698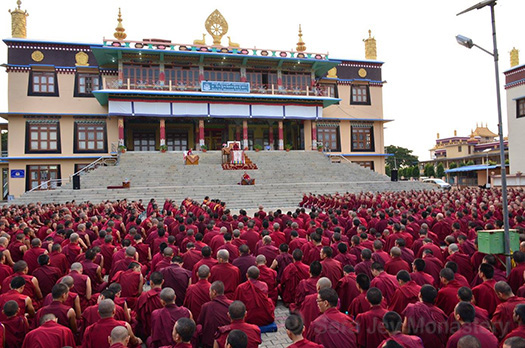 Sera Jey Monastery organized a special prayer in dedication for late Gaden Tripa Lobsang Tenzin Rinpoche on 22nd April 2017. The special prayer ceremony was attended by Jangtse Choeje Lobsang Tenzin Rinpoche, Khen Rinpoche Logoan Tulku Tenzin Jampa Choesang, Tulkus, Geshes and monks of Sera Jey Monastery before the main temple.
Details

Category: Prayer & Ritual Ceremonies
Hits: 985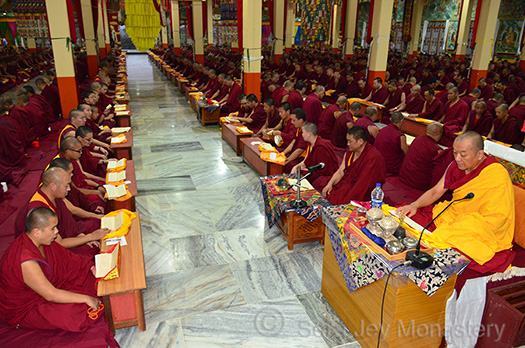 The Hayagriva Retreat རྟ་མགྲིན་ཡང་གསང་གི་བསྙེན་པ། one of the most important annual curriculum of Sera Jey Monastery has commenced today 1st April 2017 after the Invocation Ceremony on 31st March 2017.
The Hayagriva Retreat is dedicated to the long life of His Holiness The Dalai Lama, all living masters and for peace, prosperity & harmony to all sentient beings.
Every member monk participate and observe the retreat with profound reverence.
Schedule:
Hayagriva Retreat : 31st March - 8th April, 2017
Hayagriva Fire Puja: 8th April, 2017
Hayagriva Tsog Offering: 9th April, 2017
Detail information on schedule and offering, click here - PDF JPEG
Offering contributions can be sent via bank wire transfer,
Details of bank information - foreign source - PDF JPEG
- local/domestic source - PDF JPEG