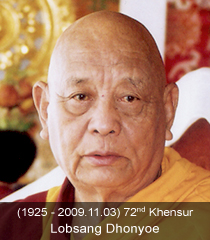 His Eminence Jetsun Lobsang Donyo, the 72nd abbot of Sera Jey monastery, was born in 1925. At the age of nine, he joined Lhatse monastery, gained basic Tibetan education and memorized all traditional monastic scriptures and studied basic Buddhist epistemology. At the age of nineteen, he joined Sera Jey Monastic University and studied all major Buddhist texts.
In 1961, he left Tibet to take exile in India and continued his study at Buxar in north India. He has served as proof-reader at monastery's printing office. In 1967, he studied at Central University for Tibetan studies, Sarnath and received the Acharya degree.
In 1999, he was enthroned the 72nd abbot of Sera Jey Monastery and made great contribution to both spiritual and temporal affairs.