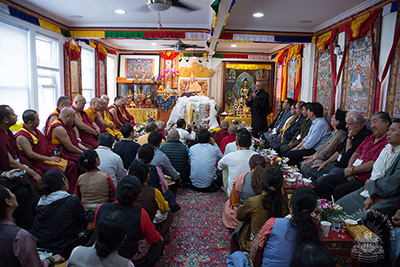 Sera Jey Buddhist Culture Center - New York, was formally inaugurated on September 24, 2016. The governing body of the center and center's chief priest (head lama) in coordination with the head - Sera Jey Monastery, found it approrpriate to have the formal inauguration ceremony during the visit of head monastery's former Abbot - Khensur Rinpoche Geshe Lobsang Delek, present adminstrator and former administrator - Geshe Thutpen Wangchuk and Geshe Thupten Monlam.
Mr. Kunga Tashi on behalf of The Office of Tibet - Washington, was the chief guest and inaugurated the ceremony.
The Center was formally founded in 2012 at New York with a prime objective to dispense Buddhist teachings and services to the Tibetan and other Buddhist community in and around New York. The Center;s former Director - late Geshe Lobsang Ngoddup Deshitsang and members has made admirable and selfless dedication in establishing the center.