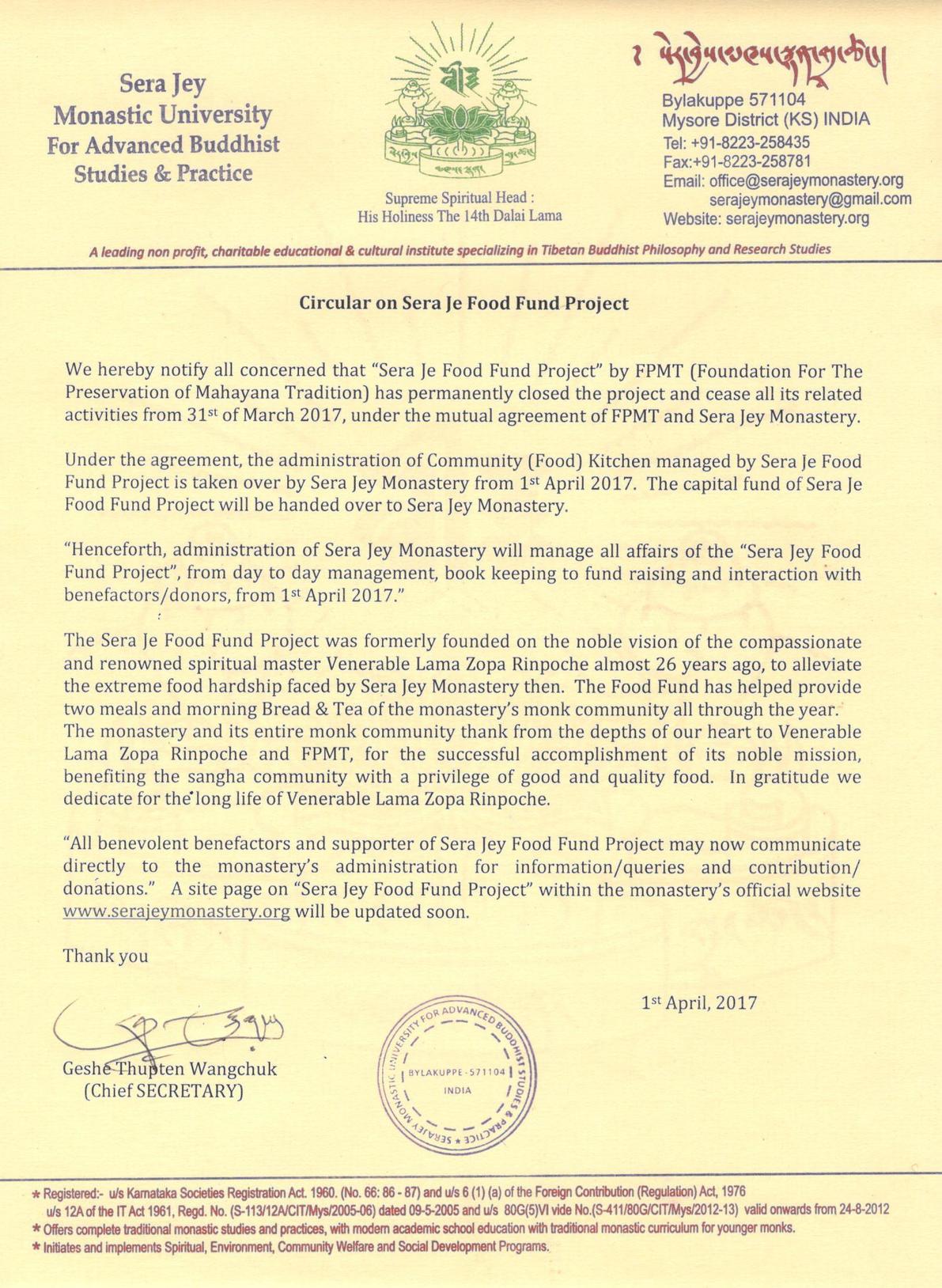 We hereby notify all concerned that "Sera Je Food Fund Project" by FPMT (Foundation For The Preservation of Mahayana Tradition) has permanently closed the project and cease all its related activities from 31st of March 2017, under the mutual agreement of FPMT and Sera Jey Monastery.
Under the agreement, the administration of Community (Food) Kitchen managed by Sera Je Food Fund Project is taken over by Sera Jey Monastery from 1st April 2017. The capital fund of Sera Je Food Fund Project will be handed over to Sera Jey Monastery. ¬¬
"Henceforth, administration of Sera Jey Monastery will manage all affairs of the "Sera Jey Food Fund Project", from day to day management, book keeping to fund raising and interaction with benefactors/donors, from 1st April 2017."
The Sera Je Food Fund Project was formerly founded on the noble vision of the compassionate and renowned spiritual master Venerable Lama Zopa Rinpoche almost 26 years ago, to alleviate the extreme food hardship faced by Sera Jey Monastery then. The Food Fund has helped provide two meals and morning Bread & Tea of the monastery's monk community all through the year.
The monastery and its entire monk community thank from the depths of our heart to Venerable Lama Zopa Rinpoche and FPMT, for the successful accomplishment of its noble mission, benefiting the sangha community with a privilege of good and quality food. In gratitude we dedicate for the long life of Venerable Lama Zopa Rinpoche.
"All benevolent benefactors and supporter of Sera Jey Food Fund Project may now communicate directly to the monastery's administration for information/queries and contribution/ donations." A site page on "Sera Jey Food Fund Project" within the monastery's official website www.serajeymonastery.org will be updated soon.
Thank you
1st April, 2017
Geshe Thupten Wangchuk
(Chief SECRETARY)
circular in PDF file