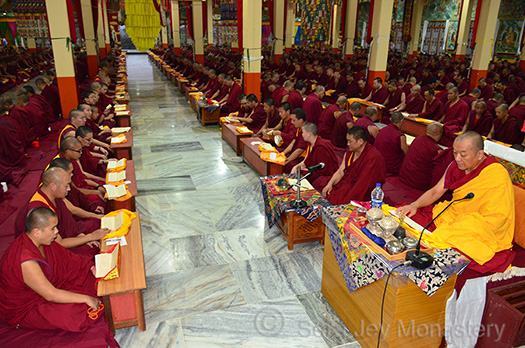 The Hayagriva Retreat རྟ་མགྲིན་ཡང་གསང་གི་བསྙེན་པ། one of the most important annual curriculum of Sera Jey Monastery has commenced today 1st April 2017 after the Invocation Ceremony on 31st March 2017.
The Hayagriva Retreat is dedicated to the long life of His Holiness The Dalai Lama, all living masters and for peace, prosperity & harmony to all sentient beings.
Every member monk participate and observe the retreat with profound reverence.
Schedule:
Hayagriva Retreat : 31st March - 8th April, 2017
Hayagriva Fire Puja: 8th April, 2017
Hayagriva Tsog Offering: 9th April, 2017
Detail information on schedule and offering, click here - PDF JPEG
Offering contributions can be sent via bank wire transfer,
Details of bank information - foreign source - PDF JPEG
- local/domestic source - PDF JPEG